Wolf Hall
The Wolf Hall Apartments were built in 2008 as one of the Legacy Hall Apartments, to provide apartment style living for our juniors and seniors. The Hall holds 80 occupants. Wolf Hall was named in honor of the first abbot of St. Benedict Abbey.
Resident Director: Daniel Fox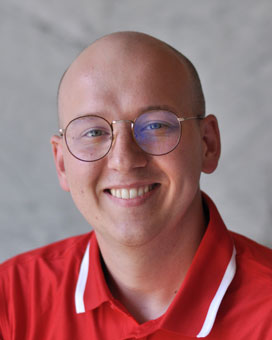 Daniel grew up in Huntsville, Alabama and graduated from Samford University in 2015 with a degree in Economics. Daniel worked in commercial real estate and in healthcare until 2020, when he moved to Washington, DC to earn his Master's degree at the John Paul II Institute for Studies on Marriage and the Family. Daniel is excited to serve the Benedictine community as the Director of Wolf and Lemke Hall. 
Hall Features
Appliances: Each apartment has a full kitchen, including a dishwasher, stove, oven, and refrigerator.
Bathrooms: Each apartment has its own bathroom.  There are two sinks and a bathtub/shower combination.
Furniture Supplied:

In the living room: sofa, armchair, coffee table, end table, three barstools and dining table with four chairs.
In double bedroom: two beds, two desks, two desk chairs, two closets, one dresser.
In single bedroom: one bed, one desk, one desk chair, one closet, one dresser.

Handicap Accessible: Handicap rooms are available. 
Laundry & Vending: There is a laundry room on the ground floor of Legacy Hall with eight washers and dryers available 24 hours.  A vending machine is located outside of the common bathrooms.
Lofts: No lofts are allowed.
Lounges: The main lounge is located on first floor of Legacy Hall. The lounge is twenty-four hours for both men and women.  There is an indoor and outdoor fireplace.  It also has an area to prepare food, with a sink and microwave.
Recreation: There is a flat screen TV in the lounge and various games and a DVD player in the office available for use.
Room Dimensions: There are single and double bedroom apartments available.  The size of a single bedroom is 11.9'x9.1'.  The size of double occupancy bedroom is 15.8'x9.8'.
Security: The hall runs on a key card system that allows students in and out of their apartment.