St. Joseph Hall
913-360-8250 Hall Location Contact Director
Built in 1924, St. Joseph Hall, houses 45 male upperclassmen. Each of the three floors has private rooms and a large communal bathroom. The ground floor offers two brand new six-man suites with private vanities and bathrooms.
Resident Director: Corey Hollis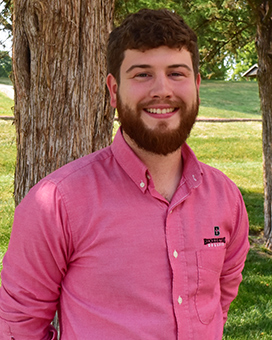 More information coming soon!
Hall Features
Appliances: The kitchen dorm is equipped with a full sized refrigerator/freezer, microwave, and stove. Kitchen appliances are available for the use of all residents. Residents may check out kitchen utensils from hall staff.
Bathrooms:

Each floor has a communal bathroom.
Eight to 10 men share a bathroom.

Furniture Supplied:

Bed
One dresser
One desk
One desk chair
Closet

Handicap Accessible: Ground floor only.
Laundry & Vending: Laundry facilities on second and third floors. Beverage machine is located in the lounge.
Lofts: No lofts are allowed
Lounges: The main lounge is located on first floor and has a TV and lounge seating. The lounge is twenty-four hours for men only; women may not stay past visitation hours.
Room Dimensions: 12'x15'. These rooms are for one person only.
Security: There are locks on each room door.  The external doors are locked 24 hours a day 7 days a week but can be opened with a student ID card.