Department of Music - Faculty
Ruth Krusemark
Kremmeter Professor of Music, Department Chair
Dr. Krusemark received her Bachelor of Music Degree in Piano Performance from Benedictine College in 1973, a Master of Music in Piano Performance from the University of Kansas in 1976 and a Doctor of Musical Arts Degree in Organ from the University of Kansas in 1998. Dr. Krusemark teaches piano, organ and music theory at Benedictine College. She has performed as organist, pianist, accompanist, singer and choir director at more than three thousand venues during her career. She directed the Benedictine College Chamber Singers, performing four times at St. Peter's Basilica in Rome for Pope John Paul II and once for Pope Benedict. She has several original compositions published by Oregon Catholic Press and is a co-composer of the Benedictine College Alma Mater. She was the founding director of the choral ensemble "The Peacemakers" and has served as the organist and choir director for the Atchison First Christian Church for fifty-two years. In 2013 she was named the "Mother Evangelista Kremmeter Professor of Benedictine Traditions and Values." Contact...
Christopher Greco
Associate Professor of Music
Dr. Christopher Greco received B.A. music and M.A. music composition from California State University, Los Angeles and the Doctor of Musical Arts (DMA) degree in classical performance from University of California, Los Angeles. Dr. Greco is an educator, composer/performer, woodwind specialist, award winning composer, and scholar of music with interests covering a broad range across several musical disciplines including composition, performance, and music theory. He is active in the classical, polystylist, and jazz fields as a recitalist and composer/performer, and was trained as a composer and multi-instrumentalist (clarinet, flute, saxophone, oboe) in his hometown of Los Angeles. Dr. Greco served on the music faculty at Pepperdine University, UCLA, and University of Maryland and currently teaches music theory (coordinator), composition (coordinator), orchestration, counterpoint, studio applied woodwinds, chamber ensemble, and history of jazz (summer online) at Benedictine College. Contact...
Website: www.chrisgrecomusic.com
Ted Hanman
Assistant Professor of Music
Mr. Hanman fulfilled his undergraduate studies at Central Methodist College, a Post Graduate Certificate in Education from the Roehampton Institute of Education in London, a Master degree in Music Education from London University's Institute of Education and a Certificate of Advanced Graduate Studies from Boston University.  While in London he performed with the London Symphony Chorus under such conductors as Richard Hickox, Michael Tilson Thomas and Claudio Abado and toured Italy, France and Switzerland. In England, he helped found and conduct the South Warwickshire Regional Orchestra and taught for the Warwickshire County Music Service. He has performed and toured with the Croydon Brass Ensemble, South London Wind Band and currently serves as co-principal of the Kansas City Wind Symphony performing on numerous occasions at the Kauffman Center for the Performing Arts with Bobby Watson, Dr. Alice Light, Elisa Bickers, and others. He is a member of the National Association of Wind and Percussion Instructors, Phi Mu Alpha and Music Educators National Conference. Contact...
Timothy Tharaldson
Assistant Professor of Music
Timothy Jon Tharaldson is the Director of Choral Activities at Benedictine College where he conducts three choral ensembles, teaches private voice, conducting, and vocal pedagogy. Prior to being at Benedictine College he taught public high school for seven years in the state of Colorado.  His compositions are published through MusicSpoke, Hal Leonard, and Santa Barbara Music Publishing. Timothy is a member of the American Choral Director's Association, American Composers Forum, Colorado Music Educators Association, and the Kansas Music Educators Association. He holds degrees from St. Cloud State University and the University of Northern Colorado. Contact...
Website: www.timothytharaldson.com
Adjunct Faculty
Michelle Rautmann
Piano
Michelle received her Master of Music degree from the University of Wisconsin-Madison, where she studied with Howard Karp and Christopher Taylor.  Her teaching experience includes chamber and vocal coaching, private lessons for children through adults, and guest lecturing in pedagogy and entrepreneurship.  She is the owner of Rautmann Studio of Music LLC., in downtown St. Joseph, MO and is currently an adjunct faculty member at Benedictine College in Atchison, KS where she teaches applied piano.  Michelle serves in several community projects, such as mentor for the Hands on for St. Joe program at Missouri Western State University, volunteer for First Saturdays Downtown in St. Joseph, co-curator for the Edison Elementary heART Gallery (Art against Violence) and the president of the St. Joseph Area Music Teachers Association. Contact...
Dr. Lara West
Keyboard, World Music Literature, Music Appreciation and Liturgical Choir
Dr. Lara West earned her Bachelor of Arts in Music from Luther College in Decorah, Iowa.  She holds a Doctor of Musical Arts degree and a Master of Music degree in church music from the University of Kansas in Lawrence.  Her lecture-recital focused on the organ works of Hugo Distler.  Dr. West teaches World Music, Functional Keyboard, and organ at Benedictine College.  She also serves as Organist at Trinity Lutheran Church in Mission, Kansas.  Dr. West studied church music and worked as a church musician in Germany, and continues to enjoy German language and culture. Contact...
Mr. Kenton Lanier
Orchestra Director
Kenton Lanier has been a member of the Benedictine College/Atchison Community Orchestra since 2005 as a violinist and violist. He became assistant conductor of the orchestra in 2010, and began as the primary conductor in 2016. He is still an active orchestral musician as a member of the St. Joseph Symphony and Topeka Symphony. He has performed in chamber music master classes for the Miami Quartet, Berlin Philharmonia Quartet, Ariel Quartet, and Harlem Quartet, and was a national finalist in the 2016 MTNA Chamber Music Competition as a member of the Allaudo Quartet.
Kenton and his wife Rebekah hold a private studio of violin, viola, harp, and piano students in the Kansas City area. Kenton is currently pursuing Master's degrees in Viola Performance and Musicology at the University of Missouri-Kansas City Conservatory of Music and Dance. He holds a Bachelor of Arts in Music Theory and Composition from Thomas Edison State University (NJ). Contact...
Keith Stanfield
Strings
Keith Stanfield began playing the violin at the age of 3, and made his solo debut at the Royal Festival Hall in London (England) aged 6. He made his tv debut on the BBC aged 9, and his concerto debut aged 12. He is a graduate of the Purcell School of Music and the Royal Academy of Music. 
Keith has performed concertos and recitals at many of Europe's major venues, and has performed privately for dignitaries including the reigning Prince of Monaco. He recently made his US debut on April 2017 performing the Brahms Violin Concerto with the Benedictine College - Atchison Symphony.  He  performed the same work with the Kansas City Civic Orchestra in October of 2017.
He is Concertmaster of the Kinnor Philharmonic Orchestra, Northland Symphony Orchestra and Assistant Concertmaster of the Saint Joseph Symphony, as well as a member of various other orchestras in the region. He currently teaches at Benedictine College, Cottey College and maintains a small private studio in Kansas City. His recordings of Mozart and Bach are available on iTunes. Contact...
Mr. Jason Riley
Guitar
An active performing musician in all styles, Mr. Riley has released four solo CDs, including Notes to Self, a recording of original compositions. He is also featured on the recordings of many other artists, tours regularly with many national and international artists and has made numerous radio and television appearances. Mr. Riley teaches guitar at Benedictine College and Missouri Western State University. He has degrees in classical guitar performance and commercial music from MWSU, is a certified Suzuki guitar method teacher, member of the Missouri Music Teachers Association and director of the St. Joseph Arts Academy. Contact...
Website: http://www.jasonriley.com​ 
Laura Goehner-Moreno
Staff Accompanist
Laura Goehner-Moreno, pianist, received a Bachelor's and Master's degree in Piano Performance from the University of Kansas, and continued post-graduate studies at the National Chopin Academy of Music in Warsaw, Poland. She studied regularly with Professor Jack Winerock at the University of Kansas, and with famed pianist Claude Frank for seven years in master classes. Her later studies were with the renowned pianist Sequeira Costa, with whom she studied for five years. Laura has performed numerous piano concerts in The US and Mexico, and has recorded a CD of classical Mexican piano music and another CD of her own compositions. Laura's numerous musical activities include those of solo pianist, chamber musician, collaborative pianist and instructor of piano. Her musical palette is expansive and diverse, encompassing a background as an orchestral violist, church organist, composer of jazz/classical piano, and interpreter of concert music. Until recently, she was active in the San Francisco Bay Area chamber music scene, performing regularly with her piano trio, teaching piano and composing. She is a member of the Music Teachers Association of America. She serves as Staff Accompanist and Piano Collaborator in the Benedictine College Music Department. Contact...
Sr. Susan Barber, O.S.B.
Music Appreciation
Sr. Susan Barber earned her Masters in Music from University of Missouri- Kansas City. She is currently working on her Masters in Spiritual Ministry from Catholic Theological Union in Chicago. Sr. Susan served as liturgist and music minister at Mount St. Scholastica for twelve years and currently teaches Music Appreciation at Benedictine. She continues music ministry at the Mount, playing the organ and piano for liturgies at the Mount and directing the Mount handbell choir. Contact...
Dr. Mackenzie Phillips
Class Voice and Applied Voice
Mezzo-soprano, Mackenzie Phillips, recently received her Doctorate of Music from the University of Kansas where she studied with Joyce Castle. In the summer of 2018, she joined the Seagle Music Colony as an emerging artist. There she performed the roles of the Old Lady in Bernstein's Candide and Vera Charles in Mame.
A new music enthusiast, Mackenzie is a co-founder and member of The Meadowlark Project, a contemporary vocal ensemble in its first season.
Mackenzie attended the Brevard Music Festival as part of the Janiec Opera Company in the summers of 2015 and 2016. She was seen as Mama McCourt in Douglas Moore's The Ballad of Baby Doe and Hippolyta in A Midsummer Night's Dream by Benjamin Britten.
While at the University of Kansas, Mackenzie made her role debut of Regina in Mark Blitzstein's Regina as well as the Old Lady in Candide. Her other performed roles include Mrs. Nolan (The Medium), Eva (Comedy on the Bridge), Zita (Gianni Schicchi), Anna Maurrant (Street Scene), Marcellina (Le Nozze di Figaro), Katisha (The Mikado), and Mrs. Herring (Albert Herring).
Mackenzie has a Bachelor of Music in Vocal Performance from Simpson College, a Master of Music in from Stephen F. Austin State University.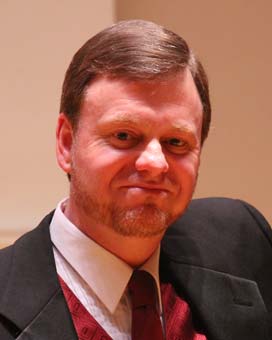 Dr. Brian Casey
History of Music
Brian Casey holds the Doctor of Arts and Master of Music degrees in wind conducting (University of Northern Colorado and University of Delaware, respectively).  He also holds the in B.A. in Music Education from Harding University.  Casey's dissertation treated funereal music styles historically, theoretically -- and practically, in that it offered new transcriptions of landmark funeral pieces for various levels of instrumental ensembles.
Casey has served on several collegiate faculties.  At Houghton College (NY) from 2007-2013, he was Director of Instrumental Activities and Music Director and Conductor of the orchestra and the wind band.  He has mentor-taught four master's-level students in instrumental conducting and has participated in numerous conducting symposia.  His teaching experience includes applied conducting and horn, classroom conducting courses, wind and orchestral literature, music education, student teacher supervision, and first-year theory.
Casey has served ten community and semi-professional ensembles as conductor or associate conductor -- including the Kansas City Wind Symphony, the Benedictine College/Atchison Community Orchestra, and the Southern Tier (NY) Symphony.  He has performed with more than 40 wind, brass, orchestral, and jazz ensembles.  In addition, he is a seasoned composer and arranger of both instrumental pieces and Christian songs and hymns.  His orchestral, wind, and brass works have been performed by the the Kansas City Wind Symphony, the Kansas City Brass Project, the Heart of America Wind Symphony, the brass of the Dallas Wind Symphony, the Southern Tier (NY) Symphony, and collegiate ensembles in CO, NY, TX, and WY.  Casey is the author of five books and has collaborated in the editing of three scholarly books on biblical studies, contributing a chapter to one of them.  He blogs regularly, mostly on Christian and music topics.  He resides in Atchison with his wife Karly and his son Jedd.
Alyssa Toepfer
Applied Voice
Soprano Alyssa Toepfer has been praised as a performer with "unbridled dexterity" (Kansas City Star) and a "marvelous, soaring tone" (KC Metropolis).
Currently, Ms. Toepfer teaches voice at Ottawa University and Benedictine College, is the choral assistant at Olathe North High School, sings as an outreach artist with The Lyric Opera of Kansas City, and is a member of the Grammy award-winning Kansas City Chorale.
Stage credits include Zerlina (Don Giovanni), Adele (Die Fledermaus), Barbarina (Le nozze di Figaro), Pamina (Die Zauberflöte), Princess/#1 (Transformations), Wanda (The Grand Duchess of Gerolstein), Aline (The Sorcerer), Mabel (The Pirates of Penzance), Lauretta (Gianni Schicchi), Gretel (Hӓnsel und Gretel), Adina (l'Elisir d'amore), and Fiordiligi (Cosi fan tutte).
In 2014, Ms. Toepfer earned international acclaim in her first pants role as Jemmy in Wichita Grand Opera's production of Guillaume Tell. Opera News called her "a convincing Jemmy both musically and dramatically" while a reviewer from the German Rossini Society praised her as "a superb Jemmy... she acted as well as she sang."
Alyssa was a regional finalist in the Metropolitan Opera National Council Auditions. Born and raised in Sioux Falls, SD, she completed a Bachelor of Arts in Music at Augustana University and a Master of Music in Voice at The University of Missouri-Kansas City Conservatory of Music and Dance.
Lois Niemann
Administrative Assistant
Lois Niemann is in charge of organization and communication among all the professors, she schedules events and meetings, coordinates operations within the department, and keeps everything running smoothly.  Contact...