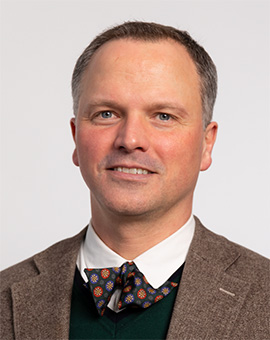 Program Director and Assistant Professor
John Haigh came to Benedictine College in 2016 to establish the Architecture Program. He is a licensed architect who resides in Atchison, KS, having worked in the profession in Milwaukee, Chicago, and South Bend, IN. Originally from Washington state, John received his MArch from the University of Notre Dame in 2004.
From 2003-2012 he worked in South Bend, under the notable Arthur Ross Award-winning architect Thomas Gordon Smith, who was a leader in the contemporary developments of the resurgence of both teaching and practicing classical architecture. Under Smith, John was the acting manager from 2005-11 for an array of projects: Metropolitan Museum of Art's Classical Galleries in the American Wing; Our Lady of Clear Creek Abbey, Oklahoma; Our Lady of Guadalupe Seminary, Nebraska; the Alliance for Catholic Education at the University of Notre Dame; and many others. During those years John was a regular guest critic for Smith's classes at the University of Notre Dame's School of Architecture.
John's personal work consists of home chapels, residential, multi-generational housing, as well as the design and execution of sacred furnishings for Catholic parishes, including a parish hall renovation. As project manager he has worked on a number of award-winning projects, including projects with Smith that have been published in Classicist, a peer-reviewed journal dedicated to the classical tradition in architecture and the allied arts. Since coming to Benedictine, John's students' projects have been published annually in Classicist.