Art
Bachelor of Arts, Department of Art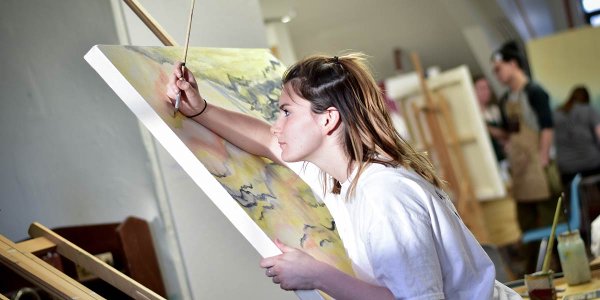 Department Overview
The objectives of the department are to explore the nature and function of art and to become proficient in this special field of communication to a practical end: to become a practicing artist; to teach art in grades PreK–12; to enter the commercial fields of advertising, graphic design, or photography; to continue with graduate study in studio art or art therapy; or to go into museum work.
Degree Objectives
Coursework serves to develop students' aesthetic, conceptual, and technical abilities while exploring the creative aspect of the human spirit.
Related Careers*
Exhibition designer
Fine artist
Further education teacher
Higher education lecturer
Illustrator
Museum/gallery curator
Printmaker
Secondary school teacher
Art therapist
Arts administrator
Commercial art gallery manager
Interior and spatial designer
Museum/gallery exhibitions officer
Multimedia programmer
Stylist
* Prospects. On the Internet here.
Contact
Christa Kagin, MAET-ATR
Associate Professor and Chair
Contact by Email
913.360.7537
John Haigh, M.Arch
Assistant Professor
Christa Kagin, MAET-ATR
Associate Professor &
Department Chair
Carlos Lameiro, Ph.D.
Associate Professor
Bryan Park, MFA
Assistant Professor
Louis Reilly, MFA
Adjunct Instructor
Gary Rittermeyer, MFA
Adjunct Instructor
Jay Wallace, MFA
Assistant Professor
Freshman Year
| | | |
| --- | --- | --- |
| ENGL-1010 | English Composition | 3 |
| THEO-1100 | Introduction to Theology | 3 |
| GNST-1000 | BC Experience | 1 |
| – | Foreign Language | 4 |
| ART-1000 | Drawing I | 3 |
| ART-1010 | Foundations of 2-D Design | 3 |
| EXSC-1115 | Wellness for Life | 1 |
| | Total | 18 |
| | | |
| --- | --- | --- |
| ART-1030 | Foundations of 3-D Design | 3 |
| – | Foreign Language | 4 |
| PHIL-1750 | Principles of Nature | 3 |
| ART-2110 | Painting I | 3 |
| ART-2200 | Sculpture I | 3 |
| | Total | 16 |
Sophomore Year
| | | |
| --- | --- | --- |
| – | Person and Community Foundation | 3 |
| – | Elective | 3 |
| – | Art Studio | 3 |
| ART-2800 | Basic Photography | 3 |
| – | Art History | 3 |
| | Math Reasoning Foundation | 3 |
| | Total | 18 |
| | | |
| --- | --- | --- |
| – | Natural World Foundation w/ lab | 4 |
| – | Faith Foundation | 3 |
| – | Art Studios | 6 |
| – | Elective | 3 |
| | Total | 16 |
Junior Year
| | | |
| --- | --- | --- |
| – | Faith Foundation | 3 |
| – | Art History | 3 |
| – | Art Studios | 6 |
| EXSC | Fitness Course | 1 |
| – | Natural World Foundation | 4 |
| | Total | 17 |
| | | |
| --- | --- | --- |
| – | Philosophical Inquiry Foundation | 3 |
| ART-3900 | Junior Seminar | 3 |
| – | Art Studios | 6 |
| – | Elective | 3 |
| | Total | 15 |
Senior Year
| | | |
| --- | --- | --- |
| – | Art History | 3 |
| – | Art Studios | 6 |
| – | Philosophical Inquiry Foundation | 3 |
| ART-4900 | Professional Practices | 2 |
| – | Elective | 2 |
| | Total | 16 |
| | | |
| --- | --- | --- |
| – | Art Studios | 6 |
| – | Electives | 9 |
| ART-4901 | Senior Exhibition Seminar | 1 |
| – | Portfolio Review | cr |
| | Total | 16 |
Other Department Offerings
Bachelor of Arts with Art Therapy Specialization
Bachelor of Arts in Art Education
Bachelor of Arts in Architecture
Minor in Art
View a printable factsheet for this degree