Elizabeth Hall
913-360-1200 Hall Location Contact Director
Completed in 1893, Elizabeth Hall served as the original Abbey for the Benedictine monks. It first became used as a residence hall in 1929, when it was known as Freshman Hall. It was completely renovated in 2001.  Now called Elizabeth Hall in honor of Elizabeth Ferrell, it currently houses 152 women on four floors of uniquely stylized rooms, from lofts to suites to apartments. The structure also contains the state-of-the-art Tower Classroom, a prayer room and the Heritage Room, which tells the story of the school's history.
Resident Director: Julia Fassero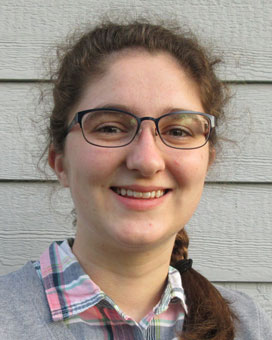 Julia Fassero is a 2021 graduate of Benedictine College.  After graduating, she worked for a year as the Archivist at Benedictine, before moving to Ireland.  She spent a year in Limerick working for the Diocese of Limerick and exploring beautiful Ireland.  Now, she has returned to her alma mater where she is happy to work on the Residence Life team.  In her spare time, Julia enjoys traveling, spending time with her friends and family, and trying new recipes.
Hall Features
Appliances: The kitchen in Elizabeth Hall is equipped with an oven, microwave, and full-size refrigerator. The kitchen is open to all residents. 
Bathrooms: Each suite has its own bathroom, which includes a private shower. The two lofts have three bathrooms each.
Furniture Supplied:

Bunk Beds
Two desks
One dresser
Two desk chairs
Some suits have kitchenette tables, TV stands, and end tables. 

Handicap Accessible: Handicap rooms are available, as well as elevator access to each floor.
Laundry & Vending: There is a laundry room on the ground floor with six washers and dryers available 24 hours.  There is also a soda machine as well as a snack machine on the ground level.
Lofts: No lofts are allowed.
Lounges: The main lounge is located on the first floor. There are study lounges on each floor.
Recreation: There is a foosball table, table tennis, and board games available to checkout in the RA office.
Room Dimensions: 10 x 12 is the average room size, variations exist. Two six person suites are available to students as well.
Security: The hall runs on a key card system that allows students in and out of the building. Each room door is hard key access.