Memorare Army - Letter from the President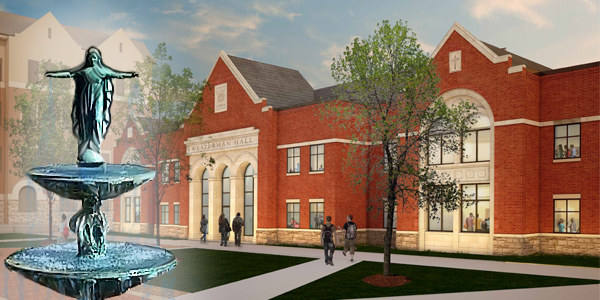 Dear Friend,
I am writing to ask if you would consider joining Benedictine College's new prayer campaign: The Memorare Army for Benedictine Science Advancement. Click here to join.
Mother Teresa, who visited Atchison's Benedictine sisters in 1981, started the first Memorare Army in Calcutta, India, gathering pledges for 85,000 Memorares to raise needed funds for a new building. We are proud to follow in her footsteps.
Today, I am asking you to pray for donations as we seek to build a new Science and Engineering facility. This new building project is the cornerstone of a campuswide commitment to the sciences that is crucial for our times. This $25 million building project will make a huge impact. Click here to see our plans for this urgently needed project.
Our goal is to secure 250 members for the Memorare Army for Benedictine Science Advancement who each pledge to pray 1,000 Memorares in 2016 for this important project.
In the past, I have asked help in Memorare Army campaigns to pray for more students and for two building projects: Mary's Grotto and the Ferrell Academic Center (see Mary's Miracles for details). Additionally, at Archbishop Joseph Naumann's request, we started a Memorare Army for Religious Liberty.
Pope Francis has made science education a priority for colleges, called Catholics to "an encounter between faith, reason and the sciences" and to "encourage greater openness to the Gospel on the part of all."

At Benedictine College, we believe faith, morality and ethics are just as important in the sciences as in every other part of our lives. They cannot be separated. That is why it is so important to train future doctors, engineers and scientists at a place like Benedictine College that understands the essential role of faith, morality and ethics in the sciences.
The building is urgently needed after a decade of STEM emphasis at Benedictine College. The school:
 
Invests more in STEM faculty than any other academic area, hiring 15 professors in the last 10 years.

Invests far more yearly operating dollars to STEM disciplines than any other area.

Invests more in attracting science majors than any other students: Science majors receive the largest academic scholarships of any majors on campus.
The prayer campaign begins on January 1, the Solemnity of Mary, Mother of God — and the beginning of the year 2016, which marks 100 years of science degrees being offered at Benedictine College.
I personally believe in the power of prayer. If you do also, please help us as we take our mission to the next level by committing to the Memorare Army for Benedictine Science Advancement.
Click here to join.
Sincerely,

President, Benedictine College