BCYC Immersion


Pre-Med Track
Are you interested in a career in medicine? Do you want to learn more about the human body and disease? The pre-medical track will help you explore both of these. Through dissections, medical case studies, and microbiology experiments, you will have the opportunity to learn more about the medical field.
Session 2:

June 20-25, 2021
Cost of attendance: $725.00This cost includes the $100 supply fee.
Track Instructors
Dr. Martha Carletti
Associate Professor of Biology and Director of Advising for Pre-Medical Healthcare Professions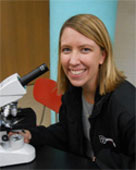 Dr. Martha Carletti received a BA in Oxbridge Molecular Biology from William Jewell College and a PhD in Molecular and Integrative Physiology from the University of Kansas Medical Center. Dr. Carletti joined the Benedictine College Biology Department in 2014. She lives in Weston, Missouri with her husband, three children, and boxer dog.
Dr. Janet Paper
Assistant Professor of Biology