BCYC Immersion
Pre-Med

Track
Session 1:

June 16-21, 2024
Are you interested in a career in medicine? Do you want to learn more about the human body and disease prevention? This pre-med high school summer program will help you explore areas of biology and anatomy that are especially useful in the medical field. Students in BCYC Immersion's pre-med track will:
Examine medical case studies together in class
Conduct microbiology experiments
Learn more about anatomy through animal dissection
Track Instructor
Dr. Martha Carletti
Associate Professor of Biology and Director of Advising for Pre-Medical Healthcare Professions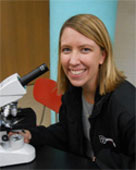 Dr. Martha Carletti received a BA in Oxbridge Molecular Biology from William Jewell College and a PhD in Molecular and Integrative Physiology from the University of Kansas Medical Center. Dr. Carletti joined the Benedictine College Biology Department in 2014 and teaches Anatomy and Physiology and upper-level biology classes. She also currently serves as the Director of Pre-Medical Advising. She lives in Weston, Missouri with her husband, three children, and boxer dog.