Engineering Track
Study with Benedictine College engineering professors who know how to lead students in solving real world problems
Benedictine College's School of Engineering is one of the fastest-growing areas of the college. This track will help participants grow in understanding of the rules of this applied science, learning through first-hand experience and lab demonstrations facilitated by Benedictine Engineering professors.
Session 1:

June 13-18, 2021

Session 2:

June 20-25, 2021
Cost of attendance: $725.00This cost includes the $100 supply fee.
Track Instructor
Dr. Charles Sprouse
Associate Professor of Engineering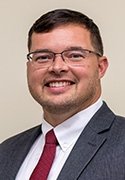 Dr. Sprouse earned a physics degree from Benedictine College in 2007. He then began engineering studies at the University of Kansas, and following a bachelor's degree in 2009, he joined the doctoral program and earned his Ph.D. in 2016. During the course of his engineering studies, he worked in consulting engineering and collaborated with some of the world's leading automotive/transportation research organizations. Dr. Sprouse's research has been published in numerous peer-reviewed journals, presented at academic conferences, and he has moderated for academic panels. His research areas include diesel particulate filters, organic Rankine cycles, waste heat recovery, adaptive information displays for automotive applications, materials testing, artificial intelligence in transportation, advanced pavement systems, and environmental stewardship. He began teaching part-time at Benedictine College in 2011 and returned to his alma mater on a full-time basis in 2013.