Dr. Jean Rioux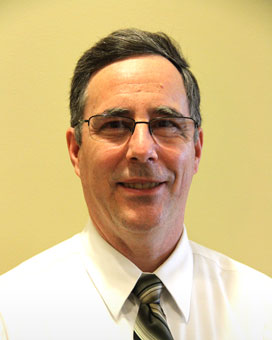 Position Title: Professor and Chair
Department: Philosophy
Office: Ferrell Academic Center 304b
Phone: (913) 360-7567
Contact Dr. Jean Rioux
---
Dr. Rioux is a professor and chair of the philosophy department. A Distinguished Educator of the Year, he studied the Great Books at Thomas Aquinas College and earned an M.A. and Ph.D. in philosophy from the University of St. Thomas. His recent teaching interests include interdisciplinary 'Great Books' courses, epistemology, and the philosophy of mathematics. Dr. Rioux and his wife live in a renovated farmhouse a few miles outside Atchison.
Teaching Specialties
Ancient and Medieval Philosophy
Thomistic Philosophy
Natural Philosophy
Philosophy of Mathematics
Great Books
Logic
Teaching Competencies
History of Philosophy
Philosophical Psychology
Ethics
Metaphysics
Natural Theology
Research Specialties and Interests
Philosophy of Mathematics
Natural Theology
Ethics
Dr. Rioux's most recent research project centers upon difficulties inherent in recent and contemporary accounts in the philosophy of mathematics and the solution of these in light of principles set out by traditional philosophers.
Education
Ph.D. in Philosophy
Center for Thomistic Studies, University of St. Thomas, Houston, TX
"Aristotle, Aquinas, and the Foundations of Arithmetic"
M.A. in Philosophy
Center for Thomistic Studies, Houston
"Philosophy of Nature and the Educated Man"
B.A. in Liberal Arts
Thomas Aquinas College, Santa Paula, CA
"The Principle of Individuation"
Publications
Anthologies
Ethics: Collected Readings, Wipf and Stock Publishers, 2005, 121 pages
Nature, the Soul, and God: An Introduction to Natural Philosophy, Cascade Books, 2004, 298 pages
Natural Theology: Collected Readings, Wipf and Stock Publishers, 2004, 136 pages
Articles and Reviews
"Aristotle's Mathematical Realism", (under review)
"A Response to James Kidd's article on Aquinas' Five Ways" (co-authored with Dr. Jim Madden, under review)
Review of Philosophical Deliberations, by Nicholas Rescher.  The Review of Metaphysics 67.3(2014), 666-8.
"What Counts as a Number", International Philosophical Quarterly vol. 53, No. 3, Issue 211 (September 2013) pp. 229­49
"Aporia," entry in the New Catholic Encyclopedia Supplement 2012-13: Ethics and Philosophy. Ed. Robert L. Fastiggi. 4 vols. Detroit: Gale (July 2013) 
"Numerical Foundations: Arithmetic as Episteme", The Review of Metaphysics 66 (September 2012): 3-29
"Ethics Of Tax Law Compliance: An Interdisciplinary Perspective" (along with Cummings, Richard G and Longo, Peter J), American Journal Of Business Education (5:1, January/February 2012). 
"Mathematical Intuitionism and the Law of Excluded Middle", Aquinas Review (8:1, 2001).
"Cantor's Transfinite Numbers and Traditional Objections to Actual Infinity", Thomist (January 2000)
Textbooks
Four Questions, East Rockaway, NY: Cummings and Hathaway, 1996; 301 pp.
Miscellaneous Publications
"Term Logic", a drill-and-practice application for Macintosh, iPhone and iPad, Android, and PC
 "Nature, the Soul, and God: An Introduction to Natural Philosophy" 254 pages, iBooks Store
"Readings in Natural Theology", 135 pages, iBooks Store
"Readings in Epistemology", 491 pages, iBooks Store
"Readings in Philosophical Psychology", 198 pages, iBooks Store
"Readings in Ethics", 39 pages, iBooks Store
Talks and Papers
"The Discussion Method", Mother of Divine Grace Conference, (Benedictine College, 2003)
"Fides et ratio", Faith and Reason Retreat (St. Benedict's Abbey, 2002)
 "Infinity", Faculty Colloquium Series (Benedictine College, 1997)
"Aquinas' Virtual Existence and the Objects of Mathematics", International Congress of Medieval Studies (Kalamazoo, 1995)
"Aristotle, Aquinas, and the Foundations of Arithmetic", (Thomas Aquinas College, 1990)
Reading Language Competencies
French, Latin, and Greek