Dr. Patrick O'Malley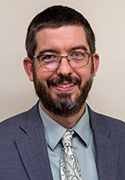 Position Title: Associate Professor
Department: Engineering
Office: Westerman 103
Phone: (913) 360-7960
Contact Dr. Patrick O'Malley
---
Dr. O'Malley earned his doctorate in 2012 from the Catholic University of America. He specialized in laser Doppler vibrometry- a technique for making vibration measurements using a laser beam. He has published his research in peer-reviewed journals and presented work at numerous conferences. He participated in research at Catholic University developing an acoustic imaging system for detection of roadside explosives, an apparatus for detecting buried landmines based on their vibration signature, and characterization of a Caribbean seelpan vibration pattern.
During his time in Washington, O'Malley also worked for a contractor at NASA's Goddard Spaceflight Center where he was on the analysis team for Hubble Space Telescope's Wide Field Camera 3 instrument and UVIS instrument. Other projects at NASA included analysis of the ICES at failure and development of robotic satellite servicing capability.
At Benedictine, Dr. O'Malley teaches General and Mechanical Engineering courses including Statics, Dynamics, Design of Machinery, System Dynamics and Control, Mechanical Measurement Lab, Robotics and Finite Element Analysis. He was awarded the Outstanding Teaching Award in 2019 by the American Society of Engineering Education MidWest Section.
Degrees
BME, Mechanical Engineering, The Catholic University of America, 2006




MME, Mechanical Engineering, The Catholic University of America, 2007




Ph.D, Mechanical Engineering, The Catholic University of America, 2012