Meet Your Admission Counselor
Caroline Weis
Assistant Director of Admission
913.360.7004
cweis@benedictine.edu
Texas, Connecticut, Delaware, Maine, Maryland, Massachusetts, Michigan, New Hampshire, New York, New Jersey, Pennsylvania, Rhode Island, Vermont, Virginia, North Carolina, South Carolina, Tennessee, Georgia, Florida, Alabama, Mississippi, Louisiana
Greeting: Hi there! I sincerely welcome you to one of the most formative and greatest places that I get to call home, Benedictine College. As a very new graduate from the class of 2019, I am seeing the fruits of my four years of formation here at Benedictine College. You are undeniably looking at an special place. From the people you meet here, to the professors, to the faith life and the beautiful campus- there is no a place quite like Benedictine.
Speaking from my personal experience, Benedictine was not a first choice on my 'list of colleges'. However, once I was dragged here for a visit, this place would not escape my mind. Now, looking in retrospect, this has one of the most crucial decisions I have made thus far. Once I chose to become a Raven, this decision has paved the way for catalyzing relationships, extra-curricular involvement, life-changing experiences and spiritual growth. All of which have completely transformed who I am, not only as a student but as an individual. Moving to Atchison has also opened the door to many opportunities. During my four years, l was able to study abroad, serve abroad in mission trips, develop personal and professional relationships with my professors and delve into a deep love for learning. It is my privilege to be able to invite you here to this place I call home. And hopefully, soon, our home! Go Ravens!
Hometown: Grand Rapids, Michigan
College: Benedictine College, Class of 2019
Major: English with a Minor in Theology
Campus Activities: Campus Ministry Coordinator and Leader, FIAT (Marian group for Women), FOCUS Bible Study Leader and Campus Leader, March for Life, Study Abroad Florence Campus, Raven Orientation Leader, International Mission Trip Leader to Tirana, Albania and Domestic Mission Trips to Houston, TX and Chicago, IL.
Catherine Kluempers
Assistant Director of Admission
913.360.0288
ckluempers@benedictine.edu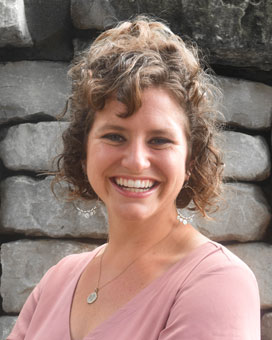 Kansas, North Dakota, South Dakota, Ohio, Oklahoma, Indiana, Kentucky, West Virginia, Iowa
Greeting: After serving as a FOCUS Missionary for two years, I'm excited to be back at my alma mater Benedictine College. This place has formed me in so many ways and I'm eager to share it with you! With a dynamic student life and thriving catholic education, Benedictine provided me with so many opportunities to grow and use my God-given talents. I hope I can help you in this process of discovering who God created you to be and provide you with the tools to transform culture and set the world on fire!
Hometown: Lenexa, KS
College: Benedictine College, Class of 2017
Major: Theology and Evangelization & Catechesis with a Minor in Dance
Campus Activites: Women's Track and Field, CAB, Study Abroad, Mission Trips, Music Ministry, SGA, Residence Life, ROC, Gregorian Fellows, FOCUS, Co-Founder of The Lemkey's A Capella group, Concert Choir, Intramurals
Will Burenheide
Associate Director of Admission
913.360.7780
wburenheide@benedictine.edu
Colorado, Nebraska, California, Alaska, Hawaii, Idaho, Washington, Nevada, Oregon, Montana, Utah, Wyoming
Greeting: Hello! I am a recent graduate from the Class of 2017 and I am so excited to be working for my now Alma Mater!
On my first visit to Benedictine, I set foot on campus and knew this was the place I wanted to call home for the next four years (and now even more)! Over my four years I grew in countless ways. I grew in the classroom where I was challenged by my professors to excel not only in my schoolwork but also in my faith, friendships and as an individual. I grew in my leadership abilities where I was honored to hold many leadership positions working closely with Benedictine faculty and staff members.
Benedictine is a place that I will always call home. I look forward to helping future Ravens call this place their new home as well.
Hometown: Falls City, Nebraska
College: Benedictine College, 2017 graduate
Major: Business Management
Campus Activities: Student Government, Resident Assistant, Student Ambassador, Raven Orientation Camp Leader, Intramural Champion, Track athlete for one year.
Monica Nelson
Assistant Director of Admission
913.360.7577
mnelson@benedictine.edu
Atchison County, Kansas City, Minnesota, Arizona, New Mexico
Greeting: As a graduate from the class of 2018, I can attest to the great impact that a Benedictine College education has had on my life. This community has challenged me to become the best version of myself, all while deepening friendships and encouraging me to grow in my faith.
During my time at Benedictine College, I was a Raven Orientation Camp Leader as well a Student Ambassador. I was fortunate to have the opportunity to study abroad with the Benedictine College Florence Program which created lasting memories and friendships. Being an active member in the theatre department helped me gain leadership experiences and helped me discover my love of the arts. Through these programs, I have been able to grow in many different areas of my life. Benedictine College allows students to have a unique college experience, and I am excited to have the opportunity to share this community with you!
Hometown: Ham Lake, MN
College: Benedictine College, Class of 2018
Major: Theatre Arts, minors in Mass Communications/Journalism & Theology
Campus Activities: Raven Orientation Camp Leader, Student Ambassadors, Campus Ministry, Study Abroad Florence Campus, FOCUS Bible Study, Benedictine College Theatre Department.
Sam Smeltzer
Assistant Director of Admission
913.360.7468
ssmeltzer@benedictine.edu
Arkansas, Missouri (except for Kansas City), Illinois, Wisconsin
Greeting: I am a graduate from the Class of 2018 and I am so excited to be working at the place I called home for four years! Choosing Benedictine was one of the best decisions I ever made. During my time at Benedictine College I grew in knowledge, in my faith, and formed lasting friendships. The community that exists at Benedictine is welcoming and encouraging, and I can't wait to welcome new students into the fold.
Benedictine College will always be like home to me. I can't wait to share my experiences with incoming students and help them form experiences and memories of their own.
Hometown: Overland Park, Kansas
College: Benedictine College, Class of 2018
Major: Mass Communications and Journalism
Campus Activities: Raven Orientation Camp Leader, Reporter for the Circuit (Benedictine College Newspaper), Benedictine College Theatre
Avery Miller
Assistant Director of Admission - International
913.360.7538
amiller@benedictine.edu
International Students
Greeting: Hi everyone! I could not be more excited to be working for the school that gave me so much over my 4 years as a student here. This is a truly special place, home to some of the greatest people I've ever met. While at Benedictine College, I met some of my best friends and was able to pursue two degrees in fields that I was passionate about.
My entire life I have been extremely interested and passionate about traveling and learning about different cultures. My first dive into a new culture was during the summer of 2013 when I participated in an exchange program to Northern Germany and lived with a host family for the summer. Since then, my desire to travel and learn from other ways of life has only grown. My semester in Florence, Italy with Benedictine College is one of the most memorable experiences in my time here. This program let me live and learn in a country rich with history and deep rooted culture.
I am so excited to work with Benedictine College's international students and am hoping to teach them a lot about the place that I have grown to call home, and in return am hoping to learn about the places that they call home.
Hometown: Lawrence, Kansas
College: Benedictine College, Class of 2019
Major: International Business and Marketing
Campus Activities: Study Abroad Florence Campus, Raven Orientation Camp Group Leader, Intramural Sports, Office of Admission Student Worker
Megan Fassero
Homeschool Outreach Coordinator
913.360.7967
megan.fassero@benedictine.edu
Homeschool Students
Greeting: On the way home from my first visit to the Benedictine College campus (February of my senior year of high school), I told my parents I could picture myself at Benedictine. As I look back over the 20+ years since graduation, I recognize that my four years at Benedictine were extremely influential and I am so grateful. I met my husband, formed lasting friendships, grew in my faith, and benefitted from the academic and personal formation I received from faculty, staff, and fellow students.
Because my husband and I homeschooled our daughter from kindergarten through high school, I have a passion for connecting homeschool students and their families to my alma mater! Benedictine's mission of building a community of faith and scholarship makes it a great place to build upon the work that families are doing to prepare their students to pursue truth, grow in love for their faith, and glorify God in all things. I invite you to come visit campus, and see if you can picture yourself at Benedictine.
Hometown/High School: Omaha, NE / Marian High School
College: Benedictine College, 1997 graduate
Major: French, History, and Theology
Campus Activities: Ravens Respect Life, Resident Assistant, Student Government, Student Orientation Leader, London International Business Trip, Semester Abroad in France, Intramurals, Mission Trips
Jon Krebsbach
Director of Transfer Enrollment
913.360.7483
jkrebsbach@benedictine.edu
Transfer Students from the United States
Greeting: Benedictine College has been a part of my family for over 30 years, with my mom and three of my aunts graduating as Ravens. As a recent alumnus, I love sharing stories about Benedictine to potential students and their families. Benedictine College gave me a wonderful education, awesome friendships and the opportunity to study in Ireland for a semester. The Benedictine community will embrace you no matter where you are from.
I hope you take the opportunity to visit campus and meet all the amazing people here at Benedictine College. Your experience will help shape you for the rest of your life. Go Ravens!
High School/Hometown: Hastings, Neb. / Saint Cecilia High School in Hastings, Neb.
College: Benedictine College, 2004 graduate
Major: Psychology
Becca Caudle
Director of Admission
913.360.7469
bcaudle@benedictine.edu
Greeting: Hi! I am a grad from the Class of 2013 and I am so excited to be a member of the Office of Admission. After a VERY long college search, looking at upwards of 20 schools, and never getting "that feeling," I visited Benedictine and it was the best decision I could have made. Looking back now I know that visit in late April of my senior year was the best visit I could have made.
Benedictine gave me the experience of a lifetime. I made the most incredible friends and created countless memories that I will carry with me forever. Aside from the incredible education I received, I was involved with many different things on campus from Residence Life, leading a Mission Trip to Belize, FOCUS Bible Studies, and countless seasons of intramurals. My time at Benedictine has given me the opportunity to explore and try so many different things and jump outside my comfort zone to have incredible adventures. I am so excited to share my experiences with future Ravens and help them fall in love with a place that I love so much!
I hope you will visit and experience the amazing community Benedictine has to offer and then potentially become a part of the Raven family!
College: Benedictine College, 2013 graduate
Major: Elementary Education
Hometown: Prairie Village, KS
Campus Activities: Resident Assistant, Raven Orientation Camp Leader, Student Ambassadors, Intramurals, Residence Life Intern, FOCUS bible study, Mission Trip to Belize