Faculty - Department of Psychological Sciences
Amy J. Posey, Ph.D.
Professor/Department Chair
Amy Posey received her Ph.D. in Social Psychology from the University of Kansas in 1995, and started at Benedictine College that fall. She teaches General Psychology, Social Psychology, Theories of Personality, History & Systems of Psychology, Psychology of Gender, and Psychology & Law. Her research interests are in the areas of social psychology and psychology and law.
Eva Chian-Hui Chen, Ph.D.
Associate Professor
Eva (Chian-Hui) Chen received her doctorate in Developmental Psychology from the University of Illinois, Urbana-Champaign in 2011 and joined Benedictine College as a faculty in the same year. She is committed to bringing diversity into our understanding of human development via undergraduate teaching, advising and mentoring, as well as collaborative research.
She teaches General Psychology, Developmental Psychology I &II, Lifespan Development, Cultural Psychology, and Research Seminar. Collaborative learning is essential to her teaching philosophy as it makes the classroom a place where everyone can cooperate, challenge, contribute, encourage, and support one another. In her teaching, she strives to inspire students to be self-directed lifelong learners.
Her research seeks to take an interdisciplinary approach to studying human development in cultural contexts. One area of her research focuses on understanding Vietnamese-Taiwanese transnational marriage families in Taiwan. Another area of focus is on examining teaching effectiveness in developmental psychology.
J. Dean Elmore, Ph.D.
Assistant Professor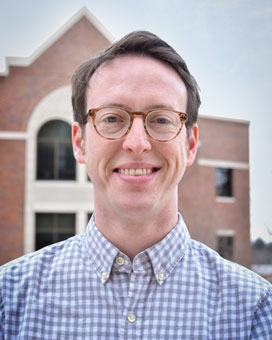 Dean Elmore earned his Ph.D. in Experimental Social Psychology from the University of Alabama in 2017 and began working at Benedictine College in the fall of that year. He received his M.A. from the University of Alabama, as well, and completed his undergraduate degree in Sociology-Psychology at Birmingham-Southern College. Dr. Elmore teaches General Psychology, Research and Statistics in Psychology, Learning and Cognition, and Biopsychology. His research interests are in the area of social psychology with a focus on psychological processes related to victimization and justice.