Mathematics & Computer Science - Department Overview
The Mathematics and Computer Science Department at Benedictine College is committed to maintaining a curriculum that provides students with the necessary tools to enter a career in their field with a broad, solid knowledge of mathematics or computer science. Our students are provided with the knowledge, analytical, and problem solving skills necessary to function as mathematicians or computer scientists in our world today.
Student Activities
We have an active Math/CS Club on campus that plans monthly activities.  The department also hosts a chapter of KME (Kappa Mu Epsilon) a national mathematics honor society. Students can also try the departmental Problem of the Month, written and collected by Dr. Hein.
Student Achievements
Math Competition Win
Three students participated in the Kansas Collegiate Mathematics Competition and won third place in the state competition.  The competition took place at the Mathematical Association of America's section meeting at Johnson County Community College on April 21, 2018.  Pictured below are, faculty advisor, Heidi Hulsizer, and students Paul Modlin, Meraiah Martinez, and Catherine Rea.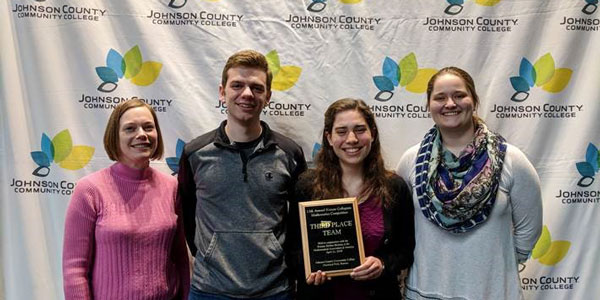 NCUWM Conference
Benedictine College had four students attend and present at the 20th annual Nebraska Conference for Undergraduate Women in Mathematics (NCUWM) on January 26-28, 2018.  Jessica Linton presented "Modeling Biological Invasion with the Reaction-diffusion Equation." Meraiah Martinez presented a poster on "Improving Automated Methods for Cell Identification in Calcium Images."  Catherine Rea presented "Convergence of the nth Generalized Continued Fractions." Kasandra Short presented "Reliability of Two-Terminal Graphs with Terminal Distance 3 or 4."  The application for attending the conference was competitive and all four students had an abstract of her presentation selected from hundreds across the country.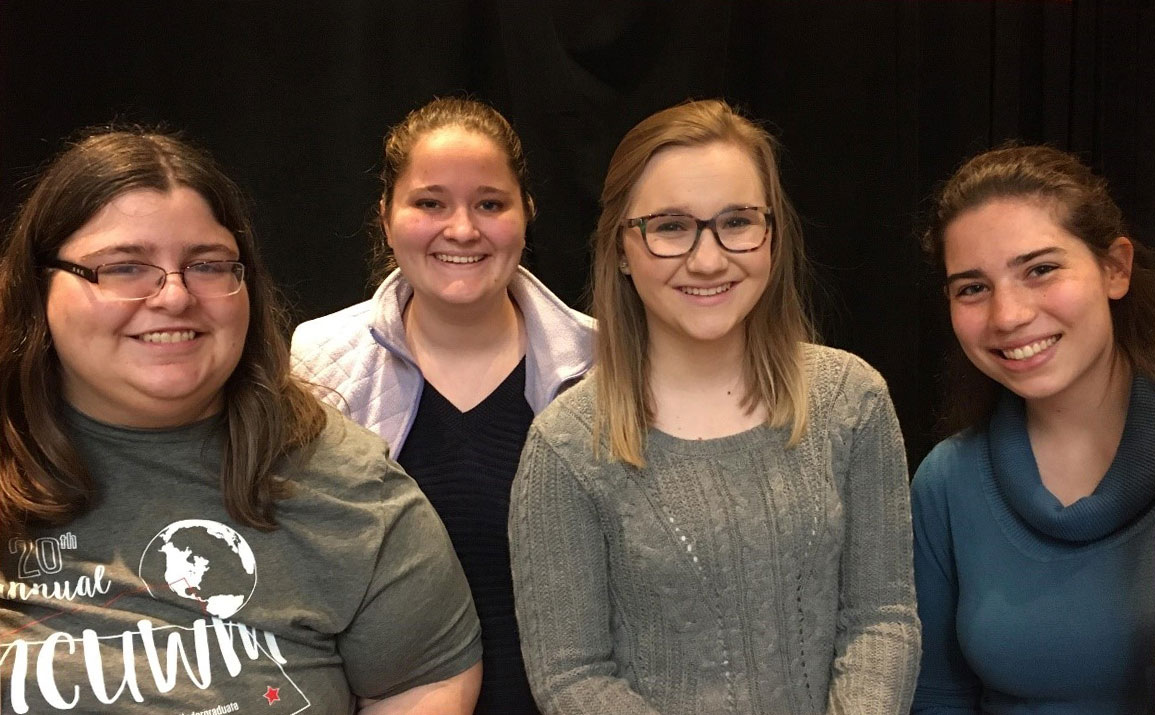 Student Excels at Putnam Competition
More than 4000 college students in the United State and Canada participated in the William Lowell Putnam Exam on December 2, 2017.  This exam attracts many of the strongest budding mathematicians in the US and Canada, and Benedictine College sophomore Meraiah Martinez of Longmont, CO placed in the top quartile.