Health, Wellness, and Exercise Science - Faculty
Mary Flynn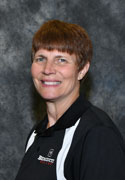 Mary Flynn graduated from Benedictine College with her BA degree in Health Physical Education and Recreation in 1979. After teaching for 17 years at Atchison Catholic Elementary Schools and substitute teaching for three years, Mary returned to Benedictine as an instructor in Health, Physical Education and Recreation and Women's Softball Coach in 1999. In 2001, Mary resigned as softball coach to take the part time Articulations Coordinator position which along with teaching part time she held until August of 2007 when she became full time faculty. Mary became Health Wellness and Exercise Science Co-chair in 2009 and Chair in 2010.
---
Jon Stammers
Dr. Stammers has been a full-time member of the Exercise Science faculty since 2008.  This is his second stint as a faculty member with Benedictine College having served as an instructor from 1988-1991.  Dr. Stammers has also served the college as an assistant football coach since 1987 and once served as the Head Softball Coach from 1987 until 1991.  Prior to coming to Atchison in 1987, Dr. Stammers taught at three high schools and worked at Pittsburg State University where he earned his Master's degree in Physical Education.  Between 1991 and 2008, Dr. Stammers taught physical education and English in Atchison schools.
He is a 1980 graduate of Benedictine College with a B.A. in English.  In the summer of 1985, he earned an M.S. in Physical Education.  He received an Ed.D. from Baker University in May, 2016.  Dr. Stammers also is a Certified Strength and Conditioning Specialist through the National Strength and Conditioning Association and serves as the faculty supervisor for Benedictine's Educationally Recognized Program (ERP) which the Strength and Conditioning major currently holds.  He has twice been a featured speaker at the Kansas High School Coaches Clinic and for Owensville, Missouri high school since joining Benedictine College.
Dr. Stammers has 30 years of experience as a strength and conditioning coach and 37 years of experience as a football coach (31 at Benedictine).  In addition to 5 years as Head Softball Coach for the Ravens, he has coached track, basketball, and softball at the junior high and high school level.
A native of St. James, Missouri, Dr. Stammers is married to Jennifer (who is a 1990 and 2001 BC graduate) for 27 years.  He has two daughters, Jessica, currently a sailor in the USN, and Jordan, a graduate student studying vocal performance in Boston.
---
Patrick Hodapp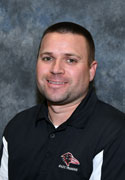 Patrick Hodapp came to Benedictine as the assistant athletic trainer but quickly became the Head Athletic Trainer in 2003. Before coming to Benedictine College he completed his undergraduate and graduate degrees at the University of Kansas.  He has previously worked for the Kansas Center for Athletic Medicine and served as the Assistant Athletic Trainer for Kansas City Wizards (Sporting KC) during the 2000 Champion season through 2003 season.  Patrick then made the move to Benedictine College shortly after. As the Head Athletic Trainer, Patrick is responsible for the overall well-being of the student athletes focusing on prevention, care, treatment and rehabilitation of the more than 650 student athletes at Benedictine College.  Patrick also teaches four classes in the HWES department as a part time faculty. He resides in Atchison with his wife (Lindsay) and daughter (Lilly).
View Patrick Hodapp's Faculty Bio
---
Jarod Crowley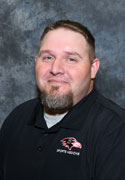 Jarod Crowley has served as an Athletic Trainer at Benedictine since 2004. Prior to beginning his career at BC, Jarod earned a double major in Athletic training and Physical Education at Graceland University in Lamoni, Iowa. While a senior at Graceland, he also obtained the credential of Certified Strength and Conditioning Specialist.
After college, Jarod interned at Neosho County Community College in Chanute.  While there, he obtained his Athletic Training Certification in the fall of 2001 and was hired on as a full time staff Athletic trainer.
In the fall of 2002, Jarod returned to Graduate School at Northwest Missouri State University in Maryville Missouri where he obtained his Master's of Education with an emphasis in Athletic Administration.
As an Athletic Trainer, Jarod's main duties include the care, prevention, and rehabilitation of the student-athlete population here at Benedictine College.
View Jarod Crowley's Faculty Bio
---
David Slack
David Slack comes to us from Bethany College in Lindsborg, KS. His role at Benedictine is Associate Professor and Director of Athletic Training Education.
He received his BS degree from Utah State University, his Master's degree from Brigham Young University and his Educational Doctorate from the University of Utah.
He was head Athletic Trainer and Athletic Director at Brigham Young University-Hawaii, then served as Executive Director of the Utah Summer Games. He served as Athletic Training Education Program Director at Washburn University in Topeka before going to Bethany College. He organized and directed both of those programs to accreditation.
He and his wife Pamela live in Topeka. They have four grown children and five grandchildren.
View David Slack's Faculty Bio
---
Jaclyn Pruitt
Jaclyn Pruitt is an Atchison native, proudly boasting the title of "Townie". She attended school at Atchison Catholic Elementary school (currently known as St. Benedict Catholic School) and Maur Hill-Mount Academy, so the Raven has long been a beloved mascot.
Jaclyn completed her Bachelor of Science degree from Kansas State University in Kinesiology with an emphasis in Exercise Physiology. Upon completing her under-grad, she completed Sonography school in St. Joseph Missouri. After working in healthcare for a number of years, Jaclyn became the Sonography Program Director at the Ultrasound school she attended. She teaches Anatomy and Physiology for Metropolitan Community College for students planning to head in the healthcare field. During her time as Sonography Director, she completed her Master's in Education and Leadership from The University of Central Missouri. Jaclyn completed a handful of courses from Concordia St. Paul to further her graduate studies in Exercise Science. 
Jaclyn enjoys spending time with her three young children and loving Christ. In addition to BC sports teams, her home also follows Kansas State sports, Chiefs football, and Royals baseball. Her hobbies include reading (especially WWII era), gardening, and strength training. 
View Jaclyn Pruitt's Faculty Bio
---