Excellence in English Endowment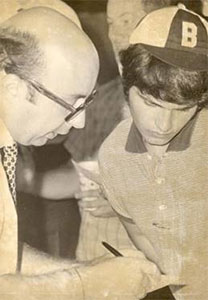 The Carpinelli family established the Excellence in English Endowment (EEE) to supplement the rather modest annual operating budget of the English Department at Benedictine College.  Dr. Frank Carpinelli, professor emeritus in English (pictured), along with his faculty colleagues, Dr. George Nicholas, and Sisters Deborah Peters, Thomasita Homan, and Jeremy Dempsey; invited English majors from Mount St. Scholastica, St. Benedict's, and Benedictine Colleges to participate in this Benedictine family initiative.
As a family full of English majors, the Carpinelli family decided that it was time to give back to their alma mater. Dr. Frank Carpinelli was a member of the English faculty, first at St. Benedict's College and then at Benedictine College, for 43 years (1964-2007).  His wife, Cecilia Overbey Carpinelli, is a 1967 English major graduate of Mount St. Scholastica College.  Two of their five children are English major graduates of Benedictine College. Their oldest, Catherine, graduated in 1992, and their youngest, Nora, graduated in 2008 (Nora had an additional major in Spanish). Two other children majored in English at other Catholic colleges. Madeline graduated from St. Mary's College in South Bend, Ind. (Madeline had an added major in political science), and Anne graduated from Boston College. Their second child, John, deviated slightly by majoring in Communications at another Catholic college, Loras College, in Dubuque, Iowa.
To give to the endowment, use our online giving form. Please include "Excellence in English Endowment" as your designation.