Faculty - School of Engineering
Dr. Darrin Muggli
Professor and Chair of the School of Engineering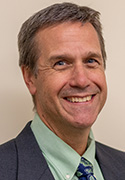 Dr. Muggli graduated with a B.S. in chemical engineering from the University of North Dakota in 1992. Subsequently, he worked for two years as a Process Engineer for Koch Engineering Co. in Wichita, Kan. He entered graduate school at the University of Colorado in Boulder where he earned his doctorate in 1998, specializing in catalysis.
Dr. Muggli was a faculty member at the University of North Dakota from 1999-2009. During that time he was awarded over four million dollars in research funding, published 30 peer-reviewed articles, and has given numerous research presentations. He holds three patents, received a university-wide award for excellence in undergraduate teaching, was voted 2007 Professor of the Year in the School of Engineering, and received a 2009 award for excellence in teaching, research, and service.
Degrees
BS in Chemical Engineering, University of North Dakota, 1992
Ph.D in Chemical Engineering, University of Colorado, 1998
More about Dr. Muggli
Prof. Myron Fanton
Assistant Professor, School of Engineering
Myron is a Licensed Professional Engineer, Illinois, and is a member of AFCCE and IEEE. Prior to joining the faculty of Benedictine College, Myron was Chief Engineer of Radio Frequency Technology, Electronics Research Inc., Chandler, Ind., and held several engineering positions within Andrew Corporation, Orland Park, Ill., He brings a wealth of experience as a career engineer to Benedictine College's team. Myron and his family reside in Atchison, Kansas.
Degrees
BS in Engineering, Le Tourneau University, 1995
MS in Electrical Engineering, Illinois Institute of Technology, 2005
More about Prof. Fanton
Dr. Patrick O'Malley
Associate Professor, School of Engineering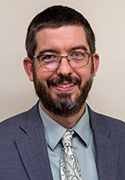 Dr. O'Malley earned his doctorate in 2012 from the Catholic University of America. He specialized in laser Doppler vibrometry- a technique for making vibration measurements using a laser beam. He has published his research in peer-reviewed journals and presented work at numerous conferences. He participated in research at Catholic University developing an acoustic imaging system for detection of roadside explosives, an apparatus for detecting buried landmines based on their vibration signature, and characterization of a Caribbean seelpan vibration pattern.
During his time in Washington, O'Malley also worked for a contractor at NASA's Goddard Spaceflight Center where he was on the analysis team for Hubble Space Telescope's Wide Field Camera 3 instrument and UVIS instrument. Other projects at NASA included analysis of the ICES at failure and development of robotic satellite servicing capability.
Degrees
BME, Mechanical Engineering, The Catholic University of America, 2006
MME, Mechanical Engineering, The Catholic University of America, 2007
Ph.D, Mechanical Engineering, The Catholic University of America, 2012
More about Dr. O'Malley
Prof. Steven Spencer
Assistant Professor, Engineering
After graduating in 1980, Mr. Spencer went to work for Mobil Oil ( now Exxon Mobil) as a refinery project engineer.  In 1985 he went to Allied-Systems Aerospace (now part of Honeywell) to do preliminary design and performance on unique new engines including autonomous undersea vehicles. In 1989, he began thermal engineering work for NASA's Marshall Space Flight Center in Huntsville, Ala. working on high altitude scientific balloons, and satellites including the Chandra x-ray telescope. In 1996, Steve became the lead mechanical systems engineer on several commercial communication satellites at Lockheed-Martin. In 2001, Steve became a lead satellite systems engineer for Spectrum Astro (now part of General Dynamics).
In addition to engineering Steve has been a wilderness canoeing expedition guide, certified instructor trainer for the American Canoe Association, and a judge for whitewater competitions including the 96 Olympics.
In 2004, Steve returned to Kansas to help care for his family and started Quiet Canoes, helping others build and pilot canoes- making him an expert on space-age and wilderness technology.  Steve started to teach engineering classes at Benedictine starting spring of 2009
Degrees
BS in Mechanical Engineering, Kansas State University, 1980
MS in Mechanical Engineering, Montana State University, 1985
More about Prof. Spencer
Dr. Scott Newbolds
Associate Professor, Engineering
Dr. Newbolds has taught at Benedictine since 2012.  His classes focus mainly on structural design, engineering mechanics, and engineering materials.  He has served co-advisor to the concrete canoe team and ASCE student chapter.  Additionally, Dr. Newbolds has served as advisor to the engineering mission trip.  His research interests are in concrete materials, corrosion of steel in concrete, and the integration of Catholic teachings and the engineering profession. 
Dr. Newbolds started his career as a Project Engineer for the Indiana Department of Transportation (INDOT) in 1995. While working in the INDOT Research and Development office, he received his Ph.D. from Purdue University in 2006.  In 2009, he began work as the Director of Site Operations for the Network for Earthquake Engineering Simulation (NEES). Dr. Newbolds is a registered Professional Engineer in the State of Indiana.
Degrees
BS in Civil Engineering, Purdue University, 1995
MSCE in Civil Engineering, Purdue University, 2000
PhD in Civil Engineering, Purdue University, 2007
More about Dr. Newbolds
Dr. Charles Sprouse
Associate Professor, Engineering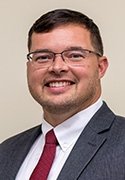 Dr. Sprouse earned a physics degree from Benedictine College in 2007. He then began engineering studies at the University of Kansas, and following a bachelor's degree in 2009, he joined the doctoral program and earned his Ph.D. in 2016. During the course of his engineering studies, he worked in consulting engineering and collaborated with some of the world's leading automotive/transportation research organizations. Dr. Sprouse's research has been published in numerous peer-reviewed journals, presented at academic conferences, and he has moderated for academic panels. His research areas include diesel particulate filters, organic Rankine cycles, waste heat recovery, adaptive information displays for automotive applications, materials testing, artificial intelligence in transportation, advanced pavement systems, and environmental stewardship. He began teaching part-time at Benedictine College in 2011 and returned to his alma mater on a full-time basis in 2013.
Degrees
BA in Physics, Benedictine College, 2007
BS in Mechanical Engineering, University of Kansas, 2009
Ph. D. in Mechanical Engineering, University of Kansas, 2016
More about Dr. Sprouse
Dr. Scott Blonigen
Assistant Professor, Engineering
After earning his MS degree in chemical engineering, Scott did process development for Kraft Foods.  He returned to school and earned his doctorate degree, specializing in bioseparations, before resuming his industrial career. Scott has developed new processes and products for a number of consumer products companies including Nestlé, Scotts Miracle Gro, Mead Johnson Nutritionals and Hills Pet Nutrition.  While at the Battelle Memorial Institute, he developed new processes for clients in the pharmaceutical and chemical industries. Scott is a licensed professional engineer (Ohio) and a member of the Product Development Management Association.
Degrees
BS, Chemical Engineering, Rose-Hulman Institute of Technology, 1986
MS, Chemical Engineering, The Pennsylvania State University, 1989
Ph.D, Chemical Engineering, Iowa State University, 1994
More about Dr. Blonigen
Dr. Juan Araque
Assistant Professor, Engineering
Dr. Araque received his B.S. degree in Chemical Engineering (2000) from Universidad de los Andes in Venezuela and worked for two years as a research and development engineer at PDVSA's petroleum research center (INTEVEP). He earned his doctorate in Chemical Engineering (2009) from Rice University, specializing in molecular simulations. He later did post-doctoral work at Cornell University, conducting research on computational modelling of polymers and nanomaterials. Dr. Araque then moved with his family to Peru where they spent three years serving as missionaries among the poor in the Peruvian Andes. Upon his return to the US, he worked as a post-doctoral scholar at the University of Iowa, conducting computational research on ionic liquids. His current research in the area of functional nanomaterials spans statistical mechanics, data science, high-performance computing and virtual reality. Dr. Araque lives in Atchison with his wife Sofia and their five children.
Degrees
BS in Chemical Engineering, University of the Andes, 2000
Ph. D in Chemical Engineering, Rice University, 2009
More about Dr. Araque
Prof. Michael W. Berry
Assistant Professor
Mike studied Civil Engineering at Kansas State University, with a specialization in Water Resources. After graduation in 1981, he joined the engineering consulting firm of Professional Engineering Consultants, P.A. In Wichita, Kan. Mike spent thirty-six years at PEC working on the design and construction of a variety of drainage, grading, paving, utility, and land development projects. While at the firm, he held a number of leadership positions, including sixteen years of service on the Board of Directors of PEC. Mike is licensed as a Professional Engineer in the states of Kansas, Missouri, and Nebraska, and is also a Professional Surveyor in Kansas. Mike's outside interests include contributing his voice to liturgical music groups, and bicycling.
Degrees
BS in Civil Engineering, Kansas State University, 1980
MS in Civil Engineering, Kansas State University, 1981
More about Prof. Berry
Dr. Peter Merkle
Associate Professor, Engineering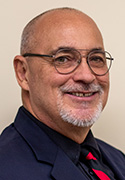 Dr. Merkle graduated with B.S. degrees in chemical engineering and management from the Massachusetts Institute of Technology in 1984. After working in the chemical industry, he pursued graduate study in environmental science at SUNY Stony Brook, conducting research on atmospheric deposition of pollutants to marine ecosystems. He earned his doctorate in Civil Engineering from Virginia Tech, specializing in catalytic filtration of drinking water. In 1995, he joined Sandia National Laboratories and was assigned to the Department of Defense from 1998-2002. Returning to Sandia, he worked for the next ten years in domestic and international security technology programs. In 2012, Dr. Merkle joined the Embry Riddle Aeronautical University as Associate Professor (Civil Engineering), conducting research on aquaponics technology. He holds two patents and is a Professional Engineer in the Commonwealth of Virginia.
Degrees
BS in Chemical Engineering, BS in Management, M.I.T. 1984
MS in Marine Environmental Science, SUNY Stony Brook, 1991
Ph. D in Civil Engineering, Virginia Tech, 1995
More about Dr. Merkle
Sean Bauer
Lab Manager, Engineering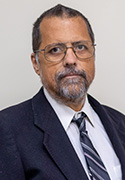 Sean Bauer is a 1986 graduate of Benedictine College, with a BA in Physics. Sean has been working in the Benedictine College Physics and Engineering Labs since 2009. He has over 25 years of experience working as an engineer for a small manufacturer of electronic instruments in Atchison, Kansas.
Degrees
BA in Physics, Benedictine College, 1986
More about Mr. Bauer