Faculty - Education Department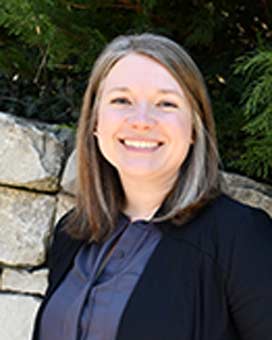 Ed.D, Associate Professor, Chair
Dr. Adams earned her undergraduate degree in Elementary Education from Benedictine College in 2004. She earned a master's degree in Curriculum & Instruction from Emporia State University in 2006 and a doctoral degree in Educational Leadership and Policy Studies from the University of Kansas in 2014. Dr. Adams worked for ten years in the Leavenworth, Kansas school district as a first-grade teacher, K-8 virtual education teacher, and virtual education administrator. She lives with her husband (a fellow Raven) and four children in Atchison. In her spare time, Dr. Adams enjoys family time, reading, cooking, coffee, and porch-sitting. 
Ed.D., Professor, Director of Secondary Education
Dr. Henderson is a 1985 graduate of Benedictine College with majors in history, psychology, and secondary education. After graduating Dian taught history, psychology, and religion for fourteen years at Mount St. Scholastica Academy in Atchison. She became principal of MSSA in 1994, serving in that position until July of 1999. During that time, Dian served as an adjunct in Education for Benedictine College as well, helping out with supervising student teachers, and teaching secondary methods classes. She came back to her alma mater to teach full time in 1999 and received her doctorate at the University of Kansas in 2000. During her free time, Dr. Henderson enjoys spending time with her nine grandchildren, reading, traveling, gardening, and practicing her home improvement skills (or lack thereof!).
Ed.D., Associate Professor, Director of Elementary Education
 Dr. Piper Wentz graduated from The University of St. Mary with a B.S. in Elementary Education in 1993.  She then spent 12 years as a classroom teacher and went on to complete her M.A. in School Leadership here at Benedictine College. Dr. Wentz returned to Benedictine in 2011 as a professor in the Elementary Education program. She finished up her education at the University of Kansas with a doctorate degree in Curriculum and Teaching. Currently, Dr. Wentz teaches upper level methods courses and also supervises student teachers. She is passionate about incorporating children's literature into the classroom and utilizing differentiation to meet the needs of all learners. Dr. Wentz enjoys spending time with her family on their small farm in Nortonville. In the meantime, she enjoys exploring the countryside on the back of her husband's motorcycle, relaxing in their hot tub, and country sunsets. 
Ed.D, Assistant Professor, Director of Special Education
Dr. Kelly Cogan graduated from Benedictine College with a degree in Elementary Education in 2006.  In 2007, she earned her certification to teach visually impaired through Missouri State University followed by her master's degree in Educational Leadership from Northwest Missouri State University in 2009.  Dr. Cogan currently attends the University of Kansas in pursuit of a doctorate degree in Curriculum and Teaching.  She spent seven years teaching special education and as an Autism consultant and then became the Director of Programs at The Farmer's House where she developed and implemented community integrated vocational based-learning programs and transition opportunities for students with Intellectual and Developmental disabilities.  She is passionate about special education and the inclusion of all individuals with exceptionalities throughout schools and local communities.  At home she enjoys beautiful landscapes, delicious food and family which fill her life with joy.
Assistant Professor
Biography coming soon.
M.A., Assistant Professor
Sarah Wise received her B.A. in Secondary Education in 2002 with emphasis in both Math and Biology. She earned a master's degree in School Leadership from Benedictine College in 2013. Sarah has spent 17 years in secondary education teaching in a variety of school settings and grade levels. Teaching is one of Sarah's greatest passions. She enjoys finding new ways to bring to life a variety of topics in her classroom and sharing that passion with her students and future teachers. The past five years, Sarah worked at Maur Hill - Mount Academy teaching advanced math, biology and leadership classes, as well as being the campus minister. Sarah was recently named "Educator of the Year" for MH-MA for the 2020-2021 school year. Sarah enjoys sports as she has coached softball, basketball and volleyball, and you can find her at the golf course during the summer months. In her spare time, she likes to dabble in art, read a good book and be outside, as much as possible.
Director—Master of Arts in Teaching
Dr. Ashley Haase graduated from The University of Kansas with a Bachelor of Science in journalism in 2007. In 2012, she graduated from Rockhurst University with a Master of Education in elementary education. Then, in 2022, Dr. Haase graduated from The University of Kansas with a Doctor of Education in curriculum and instruction. Dr. Haase has worked as a classroom teacher, technology coach, and innovation coach, focusing her dissertation research on digital citizenship. Dr. Haase has also worked in curriculum development, creating reading resources and curricula. At home, Dr. Haase enjoys reading, cooking, pursuing creative hobbies like refinishing furniture, and spending time with her two children and husband.
Assistant Professor
Biography coming soon
Coordinator of Student Support
Biography coming soon