Physics
Bachelor of Science, Department of Physics and Astronomy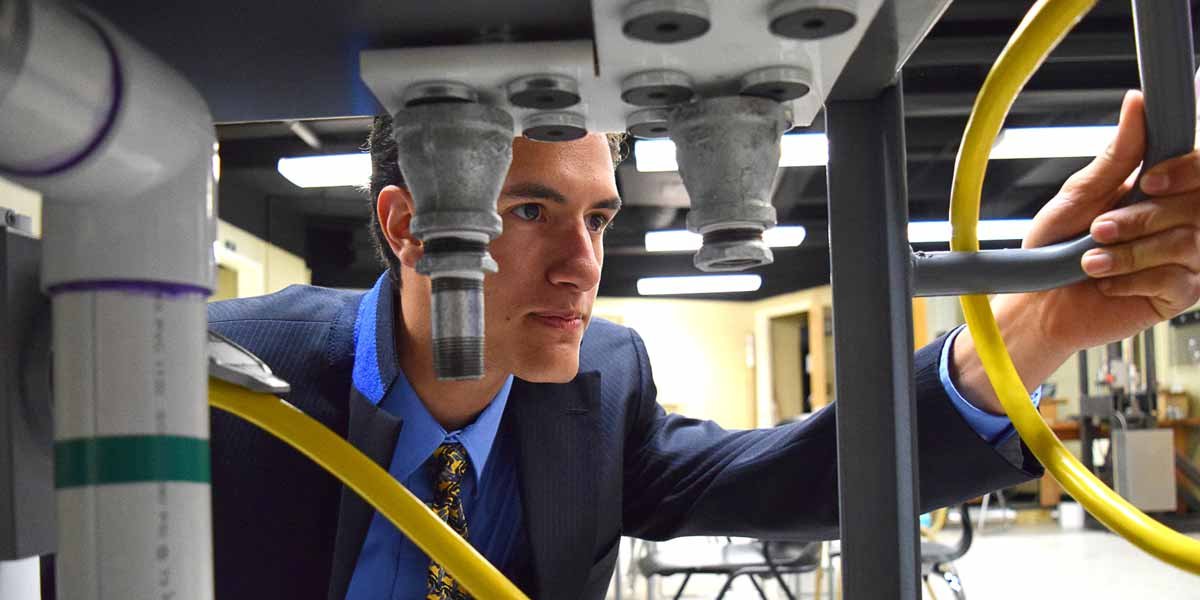 Department Overview
The Department of Physics and Astronomy offers a wide variety of courses and programs that examine and employ the laws of nature from both theoretical and applied perspectives. The courses are of value and importance to all liberally educated persons.
Degree Objectives
Introductory level courses are offered for students interested in any discipline, as well as for those students with special interests in science or engineering regardless of their background
or preparation.
Intermediate level courses are offered for students wishing to concentrate in scientific or technical  fields, and a broad spectrum of advanced courses for students planning to pursue in-depth studies of physics, astronomy, engineering or related  fields are provided.
The department emphasizes hands-on experience and laboratory work in
its programs.
Career Opportunities
Historically, about three-fourths of our graduates have successfully pursued advanced degrees. Others have accepted positions in business or industry, or at research laboratories, while some have pursued careers in law, medicine, and the religious life, for example.
Scott Baird, Ph.D.
Professor Emeritus
Douglas Brothers, Ph.D.
Professor
Eric Fox-Linton, Ph.D.
Professor and Chair
Ryan Maderak, Ph.D.
Assistant Professor
Matthew Richard, Ph.D.
Associate Professor
Georgiy Shcherbatyuk, Ph.D.
Assistant Professor
Freshmen Year
| | | |
| --- | --- | --- |
| PHYS-2100 | Classical Physics I** | 4 |
| CHEM-1200 | General Chemistry I | 3 |
| CHEM-1201 | General Chemistry I Lab | 1 |
| – | Foreign Language | 4 |
| GNST-1000 | BC Experience | 1 |
| MATH-1300 | Calculus I | 4 |
| | Total | 17 |
| | | |
| --- | --- | --- |
| – | Foreign Language | 4 |
| PHYS-2110 | Classical Physics II | 4 |
| CHEM-1210 | General Chemistry II | 3 |
| CHEM-1211 | General Chemistry II Lab | 1 |
| MATH-1350 | Calculus II | 3 |
| EXSC-1115 | Wellness for Life | 1 |
| | Total | 17 |
Sophomore Year
| | | |
| --- | --- | --- |
| PHYS-3200 | Relativity & Atomic Physics | 3 |
| PHYS-3201 | Modern Physics Lab | 1 |
| MATH-2300 | Calculus III | 4 |
| PHIL-1750 | Principles of Nature | 3 |
| THEO-1100 | Introduction to Theology | 3 |
| – | Oral Communications | 3 |
| | Total | 17 |
| | | |
| --- | --- | --- |
| PHYS-3210 | Nuclear & Elem Part Physics | 2 |
| PHYS-3211 | Modern Physics Lab II | 1 |
| MATH-3100 | Differential Equations | 3 |
| CSCI-2300 | Programming for Scientists & Engineers | 3 |
| PHYS-3500 | Electronics | 4 |
| – | Historical Inquiry Foundation | 3 |
| | Total | 16 |
Junior Year
| | | |
| --- | --- | --- |
| ENGL-1010 | English Composition | 3 |
| – | Faith Foundation | 3 |
| PHYS-4100 | Mechanics I | 3 |
| PHYS-4900 | Physics Colloquium | cr |
| – | Elective (Rec. PHYS-4200, Math Meth) | 3 |
| – | Historical Inquiry Foundation | 3 |
| | Total | 15 |
| | | |
| --- | --- | --- |
| – | Philosophical Inquiry Foundation | 3 |
| PHYS-4300 | Optics | 3 |
| PHYS-4301 | Optics Lab | 1 |
| PHYS-4110 | Mechanics II* | 3 |
| PHYS-4901 | Physics Colloquium | cr |
| EXSC | Fitness course | 1 |
| – | Visual Communication | 3 |
| – | Aesthetic Experience | 3 |
| | Total | 17 |
Senior Year
| | | |
| --- | --- | --- |
| PHYS-4600 | Electricity & Magnetism I | 3 |
| PHYS-4400 | Thermodynamics* | 4 |
| PHYS-4800 | Quantum Mechanics* | 3 |
| PHYS-4902 | Physics Colloquium | cr |
| – | Faith Foundation | 3 |
| – | Philosophical Inquiry Foundation | 3 |
| | Total | 16 |
| | | |
| --- | --- | --- |
| PHYS-4610 | Electricity & Magnetism II* | 3 |
| – | Person and Community | 3 |
| PHYS-4903 | Physics Colloquium | cr |
| – | Aesthetic Experience | 3 |
| PHYS-4700 | Condensed Matter Physics* | 3 |
| – | Elective | 3 |
| PHYS-4993 | Independent Study | 1–3 |
| PHYS-COMP | Senior Comprehensive | cr |
| | Total | 16–18 |
Other Department Offerings
Bachelor of Arts Degree in Physics
Bachelor of Science Degree in Astronomy
Bachelor of Science Degree in Engineering Physics
Minor in Physics