Benedictine Chemical Engineering Students in National Title Competition
Friday, November 8, 2019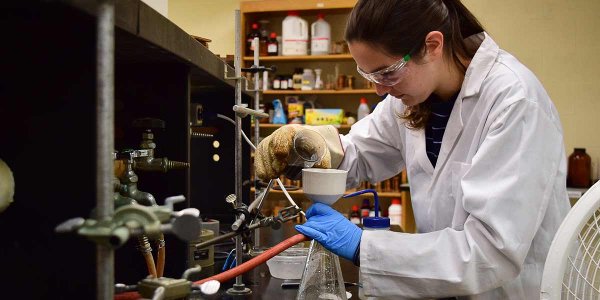 A team of chemical engineering students from Benedictine College traveled to Orlando, Florida, for the American Institute of Chemical Engineers (AIChE) Student Conference from Nov. 8 – 11. In addition to attending workshops and hearing from keynote speaker Karen McKee, President of ExxonMobil Chemical Company, the group also participated in the AIChE's national academic competition against some of the largest engineering schools in the country.
"We will be facing the Massachusetts Institute of Technology and South Dakota School of Mines in the preliminary round," said Dr. Scott Blonigen, assistant professor of engineering at Benedictine College. "It is a knowledge competition based on undergraduate course material similar in format the Jeopardy game show."

The chemical engineering students competing at nationals were Kate Caughron, Lindsey Bottom, Anthony Olimpio and Nick Weimann. Although MIT was victorious, the Benedictine team scored better than South Dakota and moved on to the second round, where they ultimately lost to the University of Iowa.
Other colleges in the competition included the University of Notre Dame, University of Texas, Clemson University, USC, Johns Hopkins University, LSU, and University of Pennsylvania. Benedictine was by far the smallest institution to make it to the national competition and is one of the few small Catholic schools in America with a School of Engineering and multiple ABET-accredited engineering degrees (Chemical, Civil and Mechanical).
Benedictine College qualified for the national event by winning the Mid-America Regional Competition.  The Mid-America competition consisted of teams from Missouri S&T (two teams), University of Iowa (two teams), Iowa State University (two teams), University of Nebraska (two teams), Kansas State University and University of Tulsa. Regional team members were Anastasia Kastl, Kate Caughron, and Joseph Barnes.
Benedictine College started offering engineering physics courses in 2008 and that has since grown to be a full School of Engineering with more than 250 students enrolled. The recent expansion of Westerman Hall of Science & Engineering gave the engineering program brand new, state-of-the-art facilities. The college has earned ABET accreditation for its Chemical, Civil and Mechanical Engineering degrees and has a cooperative arrangement with the University of North Dakota to offer an ABET-accredited degree in Electrical Engineering as well.
Founded in 1858, Benedictine College is a Catholic, Benedictine, residential, Liberal Arts college located on the bluffs above the Missouri River in Atchison, Kansas. The school is proud to have been named in the Top 10 in the Midwest of America's Best Colleges by U.S. News & World Report, the best private college in Kansas by The Wall Street Journal, and one of the top Catholic colleges in the nation by First Things magazine and the Newman Guide. It prides itself on outstanding academics, extraordinary faith life, strong athletic programs, and an exceptional sense of community and belonging. It has a mission to educate men and women within a community of faith and scholarship.