Biology Track
Benedictine College's Biology Department is known for its research relating to both medicine and the environment. The BCYC Immersion program in Biology will provide students to explore fundamental ideas in biology from enzyme kinetics to diversity. Student-driven experiments will introduce the scientific method including data collection and analysis through fundamental experiments in molecular and organismal biology.
Earn homeschool lab credit based on participation in our Biology track! Click here to learn more about receiving lab credit at Immersion.
Track available in:
Cost of attendance: $625.00
* This includes the $100 lab fee
Track Instructor
Dr. Martha Carletti, Assistant Professor of Biology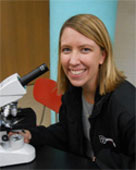 Dr. Martha Carletti received a BA in Oxbridge Molecular Biology from William Jewell College and a PhD in Molecular and Integrative Physiology from the University of Kansas Medical Center. Dr. Carletti joined the Benedictine College Biology Department in 2014. She lives in Weston, Missouri with her husband, three children, and boxer dog.