About the Dr. Wangari Maathai Stem Fellows
The Dr. Wangari Maathai STEM Fellows program provides unique opportunities for the professional development of talented students majoring in Biology, Chemistry/Biochemistry, Engineering, Math/Computer Science, Physics/Astronomy and Psychology.
The Fellows will attend lectures from the region's STEM professionals, gain exposure to other STEM fields and earn eligibility to compete for grant funding (up to $2000) to support a senior research project.
About Dr. Wangari Maathai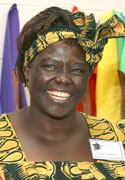 Benedictine College is the only Catholic college in America to boast of an alumna who is a Nobel Peace Laureate. Dr. Wangari Maathai was awarded the Nobel Peace Prize in 2004 for her contributions to sustainable development, democracy and peace. The native of Kenya graduated from Atchison's Mount St. Scholastica College, now Benedictine College, with a degree in biological science in 1964. She went on to become the first African woman to be awarded any Nobel Prize.
Have questions about Dr. Wangari Maathai STEM Fellows?
Terry Malloy, Ph.D.
Professor/Chair of Biology
tmalloy@benedictine.edu
913-360-7607