Faculty - Theatre & Dance
Assistant Professor and Chair
Derek Trautwein is an Assistant Professor and Chair of the Department of Theatre and Dance at Benedictine College. Currently in his ninth year at Benedictine, Derek has also served as the Technical Director for the Department of Theatre and Dance in his previous years. Derek holds a Bachelor's Degree in Theatre Performance from Northwest Missouri State University and a Master of Arts in Theatre History and Criticism from the University of Central Missouri. Since arriving at Benedictine in 2013, Derek has taught classes in Acting, Performance Studies, Theatre History, Stagecraft, Playwriting, Stage Combat, Script Analysis, and Directing.  He also has directed a slew of productions at Benedictine College such as Faust, Buried Child, Once Upon a Mattress, God of Carnage, The Foreigner, The Ash Girl and has graced the stage next to his students in The Cherry Orchard, Big River, and even portraying the endearing and gruff butcher, Lazar Wolf, in Fiddler on the Roof. Doubling down on academic endeavors while at BC, Derek has also been an adjunct and Director of Theatre for the Metropolitan Community Colleges of Kansas City, as well as a guest artist presenting workshops on theatre technology and playwriting at numerous high schools in the Kansas City area.
Since 2006, Derek has been a working professional in multiple disciplines and fields of theatre and performance. Wearing a multitude of hats, Derek is an actor, playwright, designer, director, and producer of not only theatre, but also in film. Not just on the performance side, Derek has dozens of scenic and sound design credits between Relevance Productions (The Normal Heart), KC Public Theatre (Oedipus the King), and KC Melting Pot (Single Black Female). For a season before graduate school, Derek spent a year as a freelance technician for large events, concerts, and theatrical productions in the area. The highlight of which was working for the Kansas City Repertory Theatre as a stagehand and carpenter for a season, which included working backstage on the world premiere of A Christmas Story: The Musical! years before it landed on Broadway and crew/carpenter for Around the World in 80 Days. As an actor, Derek has been featured with Kansas City Public Theatre (Strangest Kind of Love), KC Melting Pot Theatre (The Ironing Man),  Relevance Productions (The Hairy Ape), Card Table Theatre (True West), and has appeared in over 30 parody for charity staged readings with Stuffed Buffalo Productions. During a stint in Denver, Derek was fortunate to have worked for The Three Leaches Productions (The Pillowman), Spark Theatre (The Singing Room/World Premiere), and EfilF Productions (Magnamity/Film). Since 2012, Derek has been an active participant in the Kansas City Fringe Festival, producing over a dozen pieces of original works of his own and fellow artists. Culminating in receiving the inaugural Mark Edelman Best New Play Award for his 2019 contribution, Deceit. Derek's original plays have also been featured multiple times each for Kansas City Public Theatre, Olathe Civic Theatre in their New Works Festival three years in a row, and the annual Kansas City Horror Play Festival. During the initial days of the pandemic, Derek founded "Give Me Ten Productions," a theatre company dedicated to producing short plays in a staged reading format through ZOOM.
As a scholar, Derek has written and presented his original articles, "Aristophanes War on Socrates Through the Clouds" and "Bash'd Out Mormons: A Character Study of the Four Character's in Neil LaBute's Bash" at the Association for Theatre in Higher Education conference and attended the Kennedy Center American College Theatre Festival multiple times to present his original plays, direct works by his peers, and participated in the Faculty Acting Showcase.  Since becoming department chair, Derek is dedicated to the cultivation of his students and bringing the department to new heights with an emphasis on diversity and guiding the students in creating and producing their own original pieces to highlight their own human experience.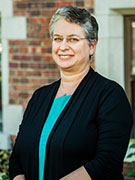 Costume Shop Manager & Design Coordinator
Anita Buhman-Wiggs is the Costume Studio Supervisor and a member of the teaching staff in the Department of Theatre and Dance. She is the Costume Designer for the faculty designed productions in the department, guides the student design process for the mainstage productions, and supervises students who are assigned production design positions in costumes and makeup. She oversees the construction of costumes for all of the department's productions. Anita teaches Costume Design, Stage Makeup, Speech Communication, and Special Topics courses in the areas of costume and makeup design and construction.
Anita earned an MFA in Design from The Ohio State University, and a BA in Theatre and English from Benedictine. During her years as a student, she worked in every backstage and technical capacity possible, and acted in several BC productions. In the past, Anita has worked as an Associate Professor of Theatre at Central Missouri State University, the Costume Shop Supervisor at Purdue University, and has been employed at a variety of theatres, including the Missouri Repertory and Purdue Professional Summer Theatre.
Assistant Professor
Dr. Nathan Bowman is an Assistant Professor in the Department of Theatre and Dance at Benedictine College. Nathan holds a BA in Theatre and Philosophy from Northwest Missouri State University, a MA in Religious Studies, and a PhD in Theatre from the University of Kansas.
Nathan is the co-founder and Producing Artistic Director of Kansas City Public Theatre, which was recently honored by the State of Missouri "2022 Arts Organization of the Year." His recent directing credits include Dr. Faustus, Oedipus the King, the new work Mirrors, featured in The Pitch "Best of KC 2020 (KCPublic), "Tartuffenthrope," featured in The Pitch "Best of KC 2021" (KCMoliere), and The Trojan Women (Benedictine College). Prior to founding KCPublic, Nathan worked professionally in Kansas City area theatres including eight seasons at Kansas City Repertory Theatre where he collaborated on both technical and artistic teams with Broadway and Tony Award winning artists from across the country. Additionally, Nathan worked for several seasons at the Heart of America Shakespeare Festival. He has trained at The Second City in Chicago and since 2016 has trained with the New York based SITI Company in the Suzuki-Viewpoints method of acting. Nathan is the Co-Chair of the Playwriting Symposium at Mid-America Theatre Conference where he also serves as a member of the land acknowledgment and anti-racism committees. He has presented work nationally and abroad at the Association for Theatre in Higher Education, Mid-America Humanities Conference, Conference on Contemporary Religion in Quebec, the Athens Institute of Education and Research in Greece. His work has appeared in such journals as Etudes, The New England Theatre Journal, and the Journal of Dramatic Theory and Criticism. With his professional and academic focus being Greek tragedy, he has acted and directed in Greece on several occasions at the Ancient Theatre of Oiniades. This summer, Nathan led a group of Benedictine College theatre students on a study abroad trip to Greece to perform his translation of the play Hippolytus at the Ancient Theatre of Messene. Along with the State of Missouri, Nathan's theatre and directing work has been awarded recognition from Charlotte Street Foundation, the Kennedy Center American College Theatre Festival, Pitch Magazine, and the New Theatre Guild.
Megan Chiles grew up in St. Joseph, MO studying dance at The Dance Arts Center. Throughout high school she was fortunate to study with dance companies such as: Ballet Austin, State Street Ballet, Hubbard Street and River North Chicago. She also spent a summer studying at The Virginia School of the Arts. She continued her dance education at Stephens College in Columbia, MO and received her Bachelor of Fine Arts Degree with a focus in Dance.
After graduating college, she performed as a magician's assistant for magic shows across the country as well as performed with the Storling Dance Theater for a season. She has choreographed musicals for Robidoux Resident Theater as well as ballet productions for The Dance Arts Center in St. Joseph, MO.
She is currently working on her graduate degree in Dance Education from the University of Northern Colorado.
Elizabeth Bettendorf-Bowman
Adjunct Instructor of Theatre & Speech
Elizabeth Bettendorf Bowman is a Kansas City based theatre artist focused on arts accessibility. She earned her Bachelor's degree in Theatre and Psychology from Northwest Missouri State University and her Master's degree in Theatre with a focus in Directing and Theatre History at the University of Missouri-Kansas City Conservatory. She is the Executive Artistic Director of Kansas City Public whose mission is to bring access to the arts and community engagement through professional theatre.
Elizabeth's work with Kansas City Public Theatre has received several honors, including "Arts Organization of the Year" by Missouri Arts Council, features in the "Best of KC" issue of the Pitch KC, Broadway World, and as the resident theatre for the Charlotte Street Foundation. Elizabeth has worked on the artistic teams of several nationally recognized and Tony-award winning directors at theatres across Kansas City. Recent directing and artistic credits include: Miss Julie, Her Own Devices, The Madness of Lady Bright (KCPublic), Curious Incident of the Dog in the Nighttime (Kansas City Repertory Theatre), And Justice for Some (Coterie), Photograph 51, Cat on a Hot Tin Roof, Tennessee Playboy (METKC), Street Scene, Love's Labours Lost, and Private Eyes (UMKC Conservatory). Elizabeth's training has continued at the New York based SITI Company where she has studied Suzuki-Viewpoints movement training, as well as with Theatrical Intimacy Education.
As an educator, Elizabeth seeks to serve the community, most notably as a resident artist for the United Inner-City Services and as a college instructor in the Fort Leavenworth Prison System. She also teaches for Coterie Theatre and Heart of America Shakespeare Festival. Elizabeth has directed several educational theatre productions, including Peter Pan, The Snow Queen, and A Midsummer Night's Dream. Elizabeth is the Chair of the Artist Committee for the Northeast Chamber of Commerce and is on the Board of Directors for Jerusalem Farm, a Catholic Intentional community located in Kansas City, Missouri, built on the four cornerstones of Prayer, Community, Service and Simplicity. Elizabeth has been teaching at Benedictine College since 2017.
Adjunct Instructor of Lighting Design
Adjunct Instructor of Scenic Design
Adjunct Instructor of Theatre & Speech